The push to regulate online poker in California has been ongoing for years 8 years now. Due to infighting between legislators and disagreements among tribes regarding who should and should not participate, every attempt at regulation has failed. California's tribes met yesterday where the topic of internet poker arose, and all seemed to agree that compromise is the only solution.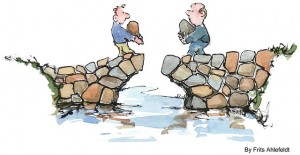 The Western Indian Gaming Conference met yesterday at Harrah's Resort Southern California in Valley Center, where Daniel Tucker, Chairman of the California Nations Indian Gaming Association, addressed the crowd regarding the regulation of online poker. Tucker said it is imperative to "make sure we have that unified front."
This year, the debate circles around two online poker bills. While they are very similar in their context, two key points separate them from one another. The first bill (AB 9), introduced by Assemblyman Mike Gatto (D-Glendale), was designed to exclude pari-mutuel race tracks and any operator that violated the UIGEA after January 1st, 2007. The second bill (AB 2291), introduced by Assembly Reggie Jones-Sawyer, would permit race tracks and provide a path for PokerStars to enter the market.
These are the two points on which California's tribes are split. Supporting Gatto's bill is a group of more than a dozen tribes led by the Pechanga Band of Luiseño Indians. On the other side of the fence, pushing for Jones-Sawyer's online poker bill, are the Morongo Band of Mission Indians and the San Manuel Band of Mission Indians.
The Morongo and San Manuel Tribes have been adamant that a so-called 'bad actors' clause be lenient enough to allow PokerStars to enter the California online poker market. Both tribes, along with the three largest card rooms in the state, have already teamed up with PokerStars to launch internet poker sites if and when a bill to regulate online poker does pass.
Chairman of the Rincon Band of Luiseño Indians, Bo Mazzetti, pointed out that, for any bill to pass, it will require two-thirds majority approval from legislators. He said that without compromise, many more years will continue to pass before any bill succeeds.  "There's got to be a lot of give and take on all our parts," explained Mazzetti. "There will be some things we don't like."
Robert Martin, Chairman of the Morongo Tribe, agreed. "There has to be compromise or it won't get done…At the end of the day, we all want what is best for the tribes."
Attorney George Foreman spoke on behalf of his clients, the Morongo Band, advising that a bad actors clause can still be implemented without exempting PokerStars. The operator was never convicted of a crime, and is under new ownership of Canadian-based Amaya Gaming, which has a squeaky clean record in terms of breaching the UIGEA. Foreman said that the Morongo want to team up with PokerStars because the operator has the highest level of expertise in the industry and is "the pre-eminent online poker entity in the world".
Attorney Stephen Hart, representing the Rincon band, said that the urgency for online poker regulation is stronger than ever due to Sheldon Adelson's push for federal anti-online gambling legislation. If such a ban were to pass with a grandfather clause, any state where online poker is already legal would be allowed to continue, while any state that failed to pass regulation prior would be out of luck.