The gambling profession often comes with a stereotypical lifestyle that involves sex, drugs and an exorbitant amount of alcohol. Anyone who knows Chad Batista will attest to his inordinate consumption of the latter, and if rumors are to be believed, alcoholism may have already put the 28-year old live and online poker pro's health in danger.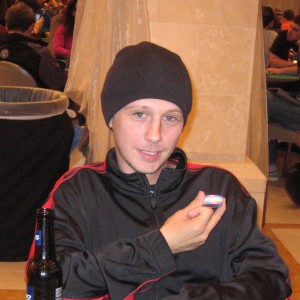 According to a post on TwoPlusTwo, Chad "lilholdem" Batista is currently in the intensive care unit (ICU), suffering from problems associated with his liver.
The rumors—since confirmed—began when one member of the forum by the name of "gamballer21" posted the following message:
"Chad is in ICU and it doesn't look good at all. He's pretty much been just drinking himself to sleep everyday and it looks like his body finally shut down and gave up. I know he handled himself atrocious online and earned a pretty terrible reputation for the things he said, and most of it rightfully so. However if you ever met Chad in person you would find out quickly that he isn't that type of person. He really is a good person, he just chose (and chose wrong) to run his mouth online thinking it was all fun and games. Pretty much all bark and no bite. Not sure how many of you will care, but just wanted to let the ones who do care know what's going on with him."
Short of stature and thin as a rail, the young man has been playing online poker for years, grinding the nosebleed stakes with phenomenal success. Perhaps it's his diminutive physique that lead "lilholdem" to take on such a vicious disposition over the internet, and perhaps to drink immoderate levels of alcohol as well."
Batista has what might be defined as a bi-polar personality. On the one hand, he can be extremely lighthearted, humorous and fun to be around. Get on his bad side though—as many online poker players have done over the years—and the pint-sized poker pro can turn into an incessant verbal tyrant.
But as bad as his online poker reputation is, the general consensus is that Batista, in person, is much more lovable and entertaining to be around. That sentiment was reflected in the responses to gamballer21's message asserting that Chad has been hospitalized.
Every subsequent post was one of well wishes, prayers and the highest respect for his abilities on the felt.
Then came the rumors of Chad's death.
A short time later, an "RIP post" was distributed instigating further rumors that young Batista had passed away. Kristi Smith (@AlaskaGal1), a poker dealer and player in Las Vegas, chimed in, confirming Chad Batista "…hasn't passed. Confirmed by a mutual friend."
That was 17 hours ago.
However, the clandestine posts that followed from those who seem to be close to the situation did confirm that Chad is, in fact, suffering from poor health.
Another more recent Tweet from @nydiorgil, retweeted by poker player Vinny Pahuja (@vinpahuja), also confirmed that Chad is in the hospital, but that he is still alive. "The family will make a statement when they are ready," she said.
The latest update from @nydiorgirl (about an hour ago) reads: "At this time Chad's family would like their privacy so they can be by his side. They have not made any statements on his condition."
In closing, I'd like to take a moment to wish Chad Batista a speedy recovery and offer my prayers to his friends and family. We hope to see you back on the felt asap!