Jessica Dawley, or "Jessica888" as her opponents know her on 888Poker, is considered one of the top up and coming female poker pros in the world. She's harvested nearly $135,000 in live poker events, but the majority of her success has come from grinding the felt in cash games. In a recent interview with PokerNews, Dawley spoke out about her desire to see more women entering the live poker realm.

A regular at the tables on the CBS Sports Network's Poker Night in America, Jessica Dawley has worked hard to earn her status as a high ranking female poker player. She's been playing since the age of 6 when her grandfather introduced her to the game, and was already using her natural talent to obtain supplementary income in her high school years.
After completing her education, Jessica enlisted in the Air Force, and was soon deployed to the United Arab Emirates. Just as she had done with her fellow classmates in high school, she spent her spare time playing poker with fellow soldiers, and winning the majority of the time.
Upon returning to the States, Dawley cashed in her first tournament in her home state of Indiana in 2007, and never looked back. Her largest live event cash came at the 2010 Aussie Millions, where she finished in 17th place for a $69,222 score. Her affable personality (and undeniable beauty) garnered countless fans, and the attention of 888Poker, who signed her as a sponsored pro in 2014.
When Jessica sat down for an interview earlier this month with fellow poker pro Chad Holloway, the very first topic of discussion was how she felt about the low percentage of women who play poker, casually or professionally.
"While the percentage of women may be low compared to the overall population of poker players," said Dawley, "it has been increasing in recent years. Clearly, women are an untapped market and online poker sites such as 888poker have certainly opened the door for us to join in on the game." She commended 888 for its efforts towards marketing to women and establishing a "positive environment" for them, but said, "there is still work that needs to be done."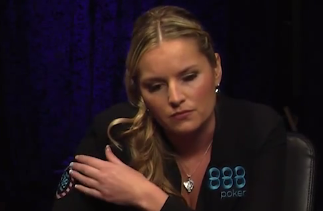 The subject of ladies-only events came up as Jessica Dawley was asked how she felt about men registering for such tournaments (since they are not actually restricted from doing so). "Men enter women-only events as an intimidation factor, and to be honest, rarely does it work as one would expect," said the female poker pro.
She recalled one incident where a man entered such an event, mocking the ladies by wearing a dress. "Not only did he look ridiculous, the crowd quickly turned against him and the women rallied together to boot him out of the tournament. He never stood a chance," quipped Dawley.
Jessica also said that she believes the legalization of online poker has helped to draw more women to the felt because playing from home gives them anonymity, reducing the intimidation factor that men frequently attempt to impose upon female opponents. She called online poker a great way for women to introduce themselves to the game before facing others (particularly the male genre) in a live setting.
In Dawley's opinion, female poker players have several advantages over men at the poker tables. She said, "women generally have better analytical skills, are more self-disciplined, and less concerned about ego than men. These qualities, when combined with thoughtful, smart play, theoretically make women better at playing the game of poker than men."
On the other hand, Jessica Dawley was quick to admit that, "men have historically posted greater results at tournaments than women," but she attributed that fact to, "their shear numerical advantage." The Kentucky born poker pro believes that encouraging more women to play poker and hone their skills will result in a shift of the male-dominating tides.