History has taught us that to be successful in any saturated business market, we must attain superior knowledge in that field. The best doctors spent years in college. The top scientists studied hard to attain their position. Likewise, the best online poker players have tweaked their skill with special training courses.
There are a multitude of online poker training websites on the world wide web. Many are founded and/or coached by the most prolific players of our time, like Cardrunners (Toby "Green Plastic" Caby), Ivey League (Phil "Polarizing" Ivey) and Advanced Poker Training (Mike Caro, Scott Clements, etc.). But they all have something in common – they are not free.
Of course, we all want to learn from the best, and that's why so many players deliver their hard earned money to these sites to improve their performance on the virtual felt. But now, you may not have to.
MIT Introduces Free Online Poker Course
---
The Massachusetts Institute of Technology (the same school that produced the infamous MIT Blackjack Team) has launched a new—and remarkably free—online poker training course called Poker Theory and Analytics. The MIT online poker course features video lectures, insight from instructors, notes and assignments.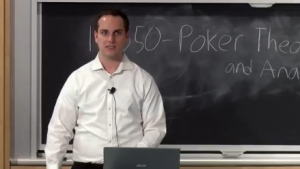 "This course takes a broad-based look at poker theory and applications of poker analytics to investment management and trading," reads the course description.
Originally taught by the Class of 2015's Master of Finance student Kevin Desmond during this year's IAP, the course compares the fine strategies of poker to that of finance management. Desmond is not only an accomplished poker player who's competed at the highest level, he's also performed as an analyst for the world-renowned Morgan Stanley financial group in New York.
In terms of success, Desmond said, "A lot of very successful people in finance have a background in poker. Coming into a career in finance already understanding risk management on a personal level is critical."
MIT Online Poker Course Goals
---
The free MIT online poker course has a number of goals set for students to achieve:
– Create an environment for study of poker theory without the need for real-money wagering.
– Develop the basic foundation for decision-making in poker.
– Allow students to assess their own level of play and have a framework for improvement.
– Provide an understanding of the current poker environment and how students might leverage talent for poker in the future.
Desmond's Theory on Poker Progression
---
As a beginner poker player, Desmond teaches students to start out with "tight/aggressive" gameplay. This means folding often when the starting cards are not of high value (tight), and betting/raising often when they are (aggressive), but rarely calling the bets of others.
Once a student masters this technique, they are encouraged to explore other avenues of soft/tight and passive/aggressive play.
The MIT course also teaches the need to track various elements of the game that other players may not be attuned to, and that's where the most important aspect of the lecture comes into play.
Desmond believes there is a direct correlation between poker and investment management theory. Analyzing data is imperative to the success of any financial investor, and by tracking the available data—everything from pot odds and expected value to poker tells from opponents—a player can achieve ultimate success on the felt.