There are just as many types of poker players in the world as there are hands that can be taken to showdown. One common type is the experienced player who seeks to hedge their bankroll by use of poker tournament staking, especially in more expensive events like the WSOP. Now, a new bill introduced by the Nevada Gaming Control Board could eliminate these types of co-dependent poker players from participating in the World Series of Poker.
The new bill, SB 40, is designed to thwart money laundering through sports betting. It's a commendable cause, no doubt, but due to the wording of the legislation, poker tournament staking could become an accidental victim.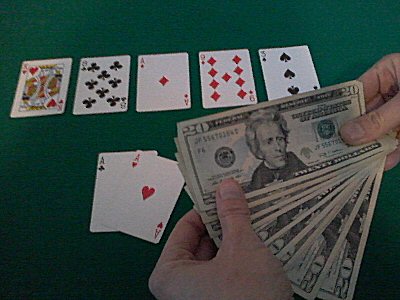 SB 40 would make it a class B felony "for a person to receive any compensation or reward, or any percentage or share of the money or property played, for… accepting or facilitating a bet or wager on the result of any race, sporting event or future contingent event that is placed on behalf of a person who receives any compensation or reward, or any percentage or share of the money or property played", unless that person has a federal, state or local license to facilitate such a wager.
Deliverance or transfer of such funds is prohibited, and carries a hefty penalty of up to 6 years in jail and/or up to a $5,000 fine.
The great debate over whether poker tournament staking would be made illegal if the bill passes arose over the ambiguity of the text. For all intents and purposes, money laundering via sports bets would be greatly impeded, but how a judge might construe the text in regards to staking a player in a poker tournament is opaque, at best.
Without clarification, Nevada's (and the world's) largest live poker event, the WSOP, could suffer. Players who often rely on stakers to enter the pricier tournaments, like the $10,000 Main Event, $25,000 High Roller or the $1,000,000 Big One for One Drop, may no longer be able to take part, resulting in an undeterminable reduction in WSOP participation.
Since 2006, the number of WSOP Main Event entries has surpassed 6,000 every year, with the highest fields of 8,773 and 7,319 occurring in 2006 and 2010 respectively. Last year, 6,683 participants met the $10k price tag. But without knowing just how many of those contenders relied on tournament staking to purchase their seats, there's simply no way to predict the imminent decline in entries should poker staking inadvertently become illegal in Nevada.
It's rather obvious that the Gaming Control Board did not realize the potential this new bill had to conflict with the WSOP and other major poker events in the Silver State. But thanks to the countless poker players who have become accustomed to observing the particulars of live and online gambling laws in recent years, the commission is sure to have it brought to their attention long before the measure goes to vote.
All in all, the true intentions of SB 40 are positive ones, and something the state certainly needs to move forward with. Thankfully, there is plenty of time for the language of the bill to be reviewed and revised to ensure that other, upright gambling activities—which garner a great deal of revenue for Nevada—do not become accidental victims of vaguely scripted legal code.
It wouldn't be the first time state legislators made such a mistake. In April of 2013, fueled by a political scandal involving Internet Cafes, Florida legislators hastily passed a law that, when literally interpreted, made it illegal to own a smartphone or computer that had internet access.