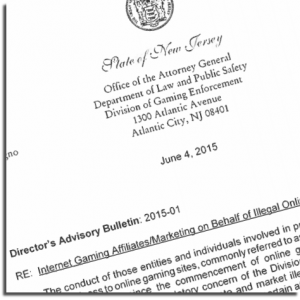 In the last 12 years, the online poker, casino and sports betting industry has become a colossal business, stretching to all corners of the globe. Beneath that shiny façade is a whole other industry, where countless online gambling affiliates make money by driving traffic to gaming websites. The New Jersey Division of Gaming Enforcement (DGE) has directly addressed the affiliate side of the business by giving webmasters 150 days to cease promotion of offshore, NJ-facing gambling sites.
On Thursday, June 4, 2015 DGE Director David Rebuck issued a bulletin to online gambling affiliates entitled, "Internet Gaming Affiliates/Marketing on Behalf of Illegal Online Gaming Sites".
Message to NJ Online Gambling Affiliates
The publication defines affiliates as "entities and individuals involved in promoting, marketing and directing business to online gaming sites". Illegal online gaming sites are defined as websites that are "not approved or licensed to accept online wagers from customers located in New Jersey or in any other State."
Rebuck stated that the topic of online gambling affiliates has "generated significant discussion" within the DGE since internet poker and casino games were authorized in the state in 2013.
"A major regulatory concern of the Division of Gaming Enforcement ("Division") are those affiliates who promote and market illegal online gaming sites to patrons located in New Jersey," wrote Rebuck. "In some instances, certain affiliates promote and market on behalf of both illegal and legal online gaming sites."
The issue of online gambling affiliates was previously addressed when the DGE sent letters to numerous affiliate webmasters in April 2014, but there was no public bulletin released on the matter. Now, having received inquiries from several affiliates on the matter, Rebuck felt an official advisory bulletin was more appropriate.
Inquiring Affiliates Want to Know:
Affiliates posed two primary questions to the NJ DGE:
1. Will affiliates who engaged in the marketing of illegal gambling websites after regulated iGaming commenced in New Jersey be subject to enforcement action by the DGE if they cease such activity?
2. Will affiliates who've promoted illegal online gaming websites be found unsuitable by the Division if they apply for licensure/registration with the DGE?
In response, Rebuck wrote:
"Affiliates who promote and market illegal sites to players located in New Jersey are violating New Jersey law and risk the Division taking adverse enforcement action against them. For affiliates licensed by the Division, revocation of a license or registration, and/or the imposition of a monetary penalty are also potential consequences for such conduct. In addition, affiliates who promote or market illegal online gaming sites to other players in other states, while arguably not subject to enforcement action by the Division or other New Jersey state agencies, are engaged in conduct that will reflect negatively on their suitability for licensure or registration."
150 Days to Comply with States Law
Online gambling affiliates who are in violation have been given 150 days from the bulletin's issue date (June 4, 2015) to bring their websites into compliance. Rebuck said that the DGE will not take action against any affiliate site or its owners/directors, or take into consideration their past violations regarding the promotion of illegal online gaming websites when applying for a license/registration from the Division, so long as compliance is met within that time frame.
Once the 150 day deadline expires, the Division will review all licensed/registered online gambling affiliates to determine compliance, and "may take enforcement action against non-compliant affiliates." Furthermore, those affiliates found to be non-compliant, along with their principal officers/directors, will not be found suitable for licensure/registration with the Division.
"To be clear," stated Rebuck, "the negative suitability assessment will attach to each principal owner, officer and director regardless of any changes in corporate ownership and structure." The Division will also take steps to advise other US regulatory bodies of the affiliate's unsuitability in New Jersey.
No Action against Post-UIGEA Online Gambling Affiliates
Last but not least, the Division addressed the issue of online gambling affiliates who promoted illegal gaming websites after the passage of the UIGEA on October 13, 2006. After careful consideration, the DGE determined "that affiliates did not actually consummate the gaming transaction or process the payment of such activity."
Therefore, the Division "will not direct its investigation resources nor take enforcement action" against online gambling affiliates who promoted illegal gaming websites post-UIGEA, "provided they come into full compliance with New Jersey law and the laws of other states" within 150 days.