According to a San Francisco judge, online gaming giant Zynga will have to face their shareholders in court after all. An initial version of the suit was dismissed in early 2014, but with new evidence from more than half a dozen "confidential witnesses", the court ruled that shareholders will be permitted to pursue litigation against Zynga for defrauding them with misleading information before and after the initial public offering (IPO) in December of 2011.
The judgment came down on Wednesday, March 25, from US District Judge Jeffrey White. According to Jonathan Stempel of Reuters.com, the judge ruled that "shareholders could pursue claims that Zynga concealed declining user activity, masked how changes in a Facebook Inc platform for its games would affect demand, and inflated its 2012 revenue forecast."
The second edition of the shareholders' lawsuit is based on testimony from an untold number (said to be at least 6) of 'confidential witnesses'. Judge White said that their statements demonstrated enough evidence to support the claims that the online gaming company's managers willfully and knowingly intended to commit fraud.
Judge White's Ruling in favor of Zynga Shareholders:
Judge White's ruling read:
"Plaintiff alleges that the officers at Zynga obsessively tracked bookings and game-operating metrics on an ongoing, real-time basis, with regular updates on the activity and purchases by every user of every Zynga game. Confidential witnesses all corroborate that the updates on game users and spending data was readily accessible to Zynga's management."
From the moment Zynga entered into IPO, that information should have been made available to shareholders, who claim the figures were withheld from them.
The plaintiffs were also seeking a claim against Zynga for misinformation that led to delays in production, but Judge White dismissed that allegation. He called Zynga's promotion of a "strong", "robust" and "very healthy" game production line nothing more than typical "business puffery".
Shareholders are alleging that Zynga intentionally masked weaknesses within the online gaming company "to allow insiders to sell $593 million worth of stock before a post-IPO lockup was to expire, and to avoid a roughly 75 percent drop in its share price over the next four months," reported Stempel.
Zynga past-year Performance Underwhelming
Since entering IPO status in December 2011, shares in Zynga [ZNGA] have not reflected a strong performance. The stock opened at $10 per share and hit their peak of $15.91 in February 2012, but experienced a landslide over the next few months as they fell below $3 in late July.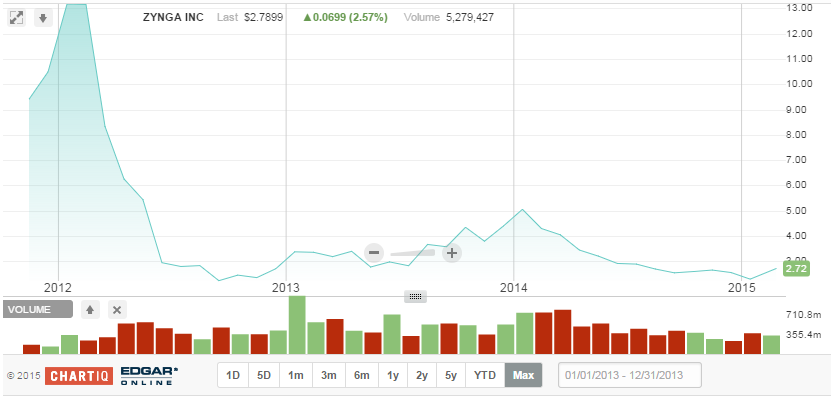 Having failed to produce anything nearly as popular to its former social gaming glory, Farmville, the stock price has been unable to exceed $5 about a year now. With rival King Digital Entertainment Plc (King.com) overtaking the social gaming market with titles like Candy Crush Saga and Farm Heroes Saga, a comeback is looking less and less plausible.
ZNGA closed yesterday down $0.05 at $2.72, recovering this morning to $2.79 at time of writing. According to NASDAQ, the 1 year target is a mere 2.9.
Reuters attempted to harvest a statement from Kelly Pakula Kunz, communications representative for Zynga, on Thursday, but she said the online gaming company had no comment to offer on the judge's decision. David Fee, lead attorney for the shareholders, also declined to comment.