Phil Galfond is one of those elite poker pros everyone else at the tables loves to hate. He's charming (when vocal), he's skillful, and he's incredibly difficult to beat. Galfond solidified his reputation once more on Sunday when he overcame the field at the 2015 WSOP $10,000 No Limit 2-7 Draw Lowball Event #29 for his second WSOP bracelet and a $224,383 payday.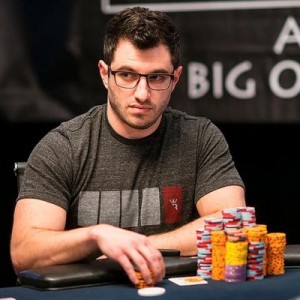 The $10k event drew a total of 77 entries, but don't let the nominal registrations fool you. Being a unique poker variant, the majority of the field was lined with poker's highest ranking professional players—much like Phil Galfond himself.
The final table of 8 was brimming with exceptional talent. Galfond was forced to overcome worthy piers that included 8x WSOP bracelet winner Erik Seidel, 2x WSOP bracelet winner and WPT titlist Eli Elezra, 2x WSOP bracelet winner Nick Schulman, WPT and EPT titlist Dan Smith and PokerStars 2009 SCOOP Champion Jon Turner, among others.
But overcome and outlast he did. After Schulman eliminated Dan Smith in 3rd ($87,898), Phil Galfond faced off with the New York native in a heads-up duel that saw Schulman entering with a more than 3-to-1 chip lead over his Maryland neighbor. After about 20 minutes of play, the tides began to turn when Galfond doubled up to 968k on a beautiful 8-7.
An hour after heads-up play began, Phil Glafond had chipped his way up to a slight lead, and continued to build on it for the next hour before the final hand of the 2015 WSOP event was dealt.
With a dominant lead of 1.74 million to Schulman's 570k—nearly identical to their opposing starting stacks when the one-on-one duel began—Galfond raised 50k from the button and Schulman shipped it all to the middle. Phil hesitated, asking for a full count before making the call.
Schulman tanked as he deliberated the draw, eventually choosing to take a single card. Galfond did the same.
Nick Schulman: 9x 6x 4x 3x
Phil Galfond: 8x 6x 5x 2x
Schulman warily reached for his card, but before squeezing, asked of his opponent, "do you wanna squeeze first?"
Phil was more than happy to oblige, stating, "I'll just flip it over!" As he did so, revealing a flawless 7x, Schulman's fate was sealed. He was drawing dead to 9-6. Knowing the Ax he tabled was useless, he rose from his seat and shook hands with the winner of the 2015 WSOP $10,000 2-7 Draw Lowball event.
Phil Galfond earned his second WSOP bracelet and the 1st place prize of $224,383.
Nick Schulman pocketed $138,665 for the 2nd place run. Notably, Schulman harvested his two WSOP bracelets by winning this same event in the 2009 WSOP and 2012 WSOP, also finishing 5th in the 2011 rendition.
During his post-game interview, Phil Galfond said, "It means a lot — especially in a field this tough and at a table this tough. I have a ton of respect for all my opponents… It's been seven years since I won [a bracelet]. I'm very happy."