Real Gaming initiated its hard launch in Nevada in October 2014 and has spent the last four months dishing up exceptional promotions to drive more traffic into South Point's online poker room. After hosting a commemorative holiday freeroll tournament last night, Real Gaming is keeping the freebies coming with another $200 GTD Shootout tonight at 6pm.
Yesterday evening, Real Gaming hosted a special President's Day $150 GTD Shootout, accessible to all members of the online poker room in Nevada. The freeroll tournament was open to only 50 players on a first come first serve basis, and had no trouble harvesting enough participants to fill those seats. Tonight's rendition will be very similar, but after last night's overwhelming success, Real Gaming is expecting to attract a much larger field this time around.
$200 GTD Shootout Freeroll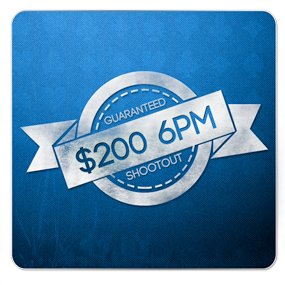 The $200 GTD Shootout is already open for registration, and you'll need to be quick to grab a seat into the freeroll tournament. There are 100 seats open this time, twice that of last night's freeroll shootout. By 9:15am PST, there were already 15 players registered for the event, and that number is expected to grow quickly (average 1 registration every 5 minutes at time of writing).
The tournament will begin at 6:00pm sharp today, Tuesday, February 17. Allocation of the $200 GTD prize pool will go as follows: $10 per table during the first stage, and another $100 to the final table prize pool.
All verified members of Real Gaming are welcome to enter tonight's freeroll tournament. Registration can be performed at any time from now until 6:00pm (or until seats are full), but the player must be physically (and verifiably) located in the state of Nevada during registration, and when the tournament begins, in order to take part.
Play Ring Games for High Score of the Hour
While you're waiting for the tournament to start—or during the freeroll tournament, if you enjoy multi-tabling—Real Gaming has another promotion players might want to consider. It's called the High Score of the Hour promo and it pays cash prizes every hour to ring game players who qualify and achieve the highest score at their table. Prizes range from $2 to $30 across qualifying levels.
Every hour, a specific type of table qualifies for the High Score of the Hour promotion. From 6:00-7:00pm, for example, the Remo Tables are on the menu. Earning a high enough Loyalty Score (i.e. poker points) at a Remo Table qualifies the player for a prize, the size of which depends on the stakes being played.
Let's say you play a Remo Table from 6-7pm at stakes of $0.01/$0.02 and earn the minimum required Loyalty Score of 2 during that hour. If you earn the highest Loyalty Score at your table, you win a cash prize of $2. However, if another $0.01/$0.02 Remo Table is open, and a player at that table qualifies, you will split the $2 prize with that player. Competing at the highest stakes of $2/$4 and earning a Loyalty Score of 20+ increases the prize to $30, with a sliding scale of Loyalty Score requirements and prizes for all other stakes levels.
Check out the High Score of the Hour Promotion at Real Gaming for more information and a full schedule of hours, tables, stakes and prizes.