Sheldon Adelson has put himself under a brilliant spot light for more than a year. Being #18 on the list of Forbes Richest People on the planet drew enough attention, but taking a vehement stance against the regulation of online gambling in the US has drawn the ire of millions of online poker players. Those who despise his hypocritical views on gambling are surely delighting in the news that Las Vegas Sands Corp (LVS) saw its profits plummet 34% in the last reporting period.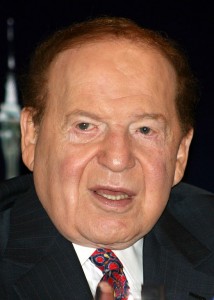 The 81 year old billionaire traveled a smooth path to get where he is today by recognizing a diverse, relatively untapped market overseas. With his main operations in Nevada, Sheldon Adelson built a new gambling monarchy in Asia by focusing on the only part of China where gambling is legal, Macau. Since establishing the most luxurious resort casinos in the region, his profits have grown exponentially… until now.
According to the latest Q1 2015 revenue results, LVS didn't fare nearly so well between the months of January and March. Revenues plunged 24.5% to $3.01 billion, while the profit margin slipped even further, down 34% from $776 million in Q1 2014 to $511.9 million in Q1 2015.
Of course, $511.9 million is nothing to scoff at. Any business anywhere in the world would be thrilled to bring in so much money in just three months' time, but for Sheldon Adelson, the present condition of the Asian gambling market could be a sign of more windfalls to come.
Macau has been the home of the world's largest gambling industry for years now, but the government of China began cracking down heavily on money laundering and corruption, most notably since June of 2014. As such, man of the area's VIP's and high rolling tycoons haven't been visiting Sheldon Adelson's casinos nearly as frequently.
Sands China Ltd., a subsidiary of LVS Corp, saw the most significant decline, dropping 34.9% to $1.77 billion in Q1 revenue, and a landslide descent in profits, down 54.2% to $344.7 million. Sands China is the parent company of Sheldon Adelson's multiple Macau-based gambling resorts, including Four Seasons Macao, which saw revenue decline 56% in Q1, Venetian Macao (-34%), Sands Cotai (-31%) and Sands Macao (-28%).
LVS didn't fare nearly so bad in other regions of the world, although negative percentages were reported all round. The casino magnate's ventures in Singapore experienced a 6% decline in Q1 revenue, while his properties across the United States slipped just 2% in the year's first reporting period.
Sheldon Adelson didn't seem too worried about the quarter's minimized financial harvest, chalking it up to a successful finish during challenging times. In a recent conference call, he told investors, "The prudent management of our cash flow, including the ability to increase the return of capital to shareholders while maintaining a strong balance sheet and ample liquidity to invest in future growth opportunities, remains a cornerstone of our strategy."
The gripe of online poker players, especially in America, has been the billionaire's fervent crusade to get all forms of online gambling prohibited across the US. Many view his campaign as hypocritical, since it's the same gambling industry that filled his pockets with enough money to throw at any politician who will support his cause.
In fact, Sheldon Adelson is directly responsible for the federal online gambling ban circulating congress, known as the Restoration of America's Wire Act, or RAWA for short. If that bill succeeds, it would eliminate the current legal online poker/casino markets in Delaware, Nevada and New Jersey, as well as the online lottery sales in four other states.