Live streaming video feeds have become extremely prevalent in the internet-based gaming arena. Thus the transition to internet poker seems nothing more than a natural progression of modern trends in technology. Last week, Twitch online poker feeds received national coverage when they became the topic of an article published in the Wall Street Journal.
The article, entitled Amazon's Twitch Site Bets on Poker, focused on Amazon Inc.'s video streaming website, Twitch.com, and its new best friend, internet poker. According to statistics provided by WSJ, Twitch is drawing 100 million viewers every month who log on to watch others play online games like Call of Duty, League of Legends and Minecraft. "Now, it has begun broadcasting online poker players, including several sponsored professionals," writes WSJ.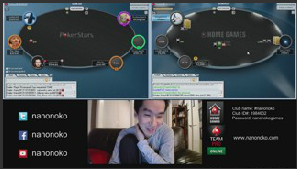 Twitch online poker feeds are comparable to poker training videos, but from a much more interactive standpoint. The player streaming their gameplay is able to "field questions from viewers and talk through their strategy in real time." Of course, the perception of 'real time' is skewed by a 4-minute delay to prevent cheating by the Twitch player's opponents who may also be viewing the live stream.
Scott Ball of gaming hardware manufacturer Razer Inc. was hired by Amazon in November 2014 to supervise Twitch's $1 billion expansion project into the online poker realm. Ball told WSJ, "Like video games, poker is a game and we've grown that into a huge business."
Twitch began broadcasting online poker channels the same month Ball came on board, and in that short time, Ball says some of the Twitch online poker channels have already drawn over one million views. Even more exciting for the live streaming brand, Ball said many of those viewers are new to Twitch.
The Wall Street Journal reported that, through its expansion into poker, Twitch is expecting to draw "more young, male users, a demographic coveted by advertisers." It was estimated that approximately 150 million people around the world play poker, and according to the Nielsen ratings, the 2014 World Series of Poker on ESPN drew 1.2 million viewers.
Scott Ball's work in the Twitch online poker field is also being recognized on a global level. Scott was on hand over the weekend to accept the award for Poker Innovation of the Year at the GPI's first annual American Poker Awards ceremony in Beverly Hills, California.
Immediately after the ceremony, Ball spoke with PokerNews, saying the positive reception of Twitch online poker feeds "happened a lot quicker than anyone could have possibly predicted. It's been really great, and both communities have been super receptive and it's been a great journey so far."
Twitch's platform depicts a live video stream of the online poker game as it's happening (minus the obligatory 4-minute delay), with an additional window in the corner or bottom of the screen that displays a live video of the player seated at their computer. Thus the viewer is able to watch the game, and the player, as they compete; much like a televised live poker tournament, except that the player is able to share their thoughts and strategies with the viewer.
Ball said that Twitch online poker feeds are growing so quickly in popularity because each stream is unique, and "everyone on the platform is different." While distinguished online poker pros like Jason Somerville, Randy "Nanonoko" Lew and Jamie Staples are harvesting the largest following of viewers so far, Ball said that "the beauty of the platform is that anyone can stream, and anyone that's viewing can go find the one stream that they enjoy the most and they connect with."