Last week, the Caesars Entertainment Operating Company filed for bankruptcy. Considering how well the Caesars-owned World Series of Poker and its online poker divisions in Nevada and New Jersey have performed, that may come as a bit of a shock for those who didn't already hear the news. Fortunately, according to a video address by Chairman Gary Loveman, none of the company's normal operations, including the live WSOP and online poker via WSOP.com, will be affected.
According to Loveman, the division of Caesars that filed for bankruptcy last week is only one segment of the Caesars Entertainment brand, and not the division that runs its live poker tournaments or interactive gaming brands. Chapter 11 was voluntarily filed only on the Caesars Entertainment Operating Company (CEOC).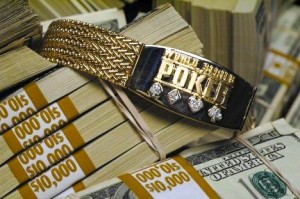 The fact that Caesars owns a multitude of subsidiaries with the same headliner name certainly makes for a confusing situation, but the World Series of Poker that travels the US for circuit events and hosts the most prestigious live poker series in the world every summer in Las Vegas is operated by Caesars Entertainment (CE). Likewise, the US regulated online poker room at WSOP.com is managed by Caesars Interactive Entertainment (CIE).
Gary Loveman is the President and CEO of Caesars Entertainment, as well as Chairman of the CEOC that filed Chapter 11 last Thursday in Chicago. In his video clip detailing the structural integrity of the Caesars brand, Loveman addressed several key issues.
"First and foremost," said Loveman, "I want to start by emphasizing that Caesars Entertainment and all of our properties are open for business and providing our guests rich experiences, and quality service is our top priority."
From there, Loveman turned his attention to the announcement of CEOC's bankruptcy filing. He said that CEOC "is moving forward with a restructuring plan we announced in December." He explained that CEOC and certain subsidiaries beneath it "have voluntarily filed for reorganization under Chapter 11 of the United States bankruptcy code.
"It is important to note the court supervised financial restructuring process relates solely to CEOC and certain of its subsidiaries. The other entities that make up Caesars Entertainment, including the parent company, are not included in the voluntary Chapter 11 filing." Loveman went on to explain the reasoning behind the restructuring as "part of a comprehensive plan to strengthen our company and position it for sustainable, long-term growth evaluation."
The video presentation also touched on the subject of the Total Rewards program offered by Caesars casino properties, which is important to internet gamers because they can coincide with the online poker and casino rewards offered on WSOP.com in Nevada and New Jersey. Loveman said the Total Rewards program has, and will continue to remain unchanged throughout the restructuring process. "Total Rewards members will continue to receive offers and comps… as they've become accustomed to."
The Chairman assured visitors and employees of their properties that Caesars Entertainment has "significant resources" and "cash on hand" to continue operating as normal across the network. So essentially, the the #1 live poker event in the world, WSOP, and the largest online poker room in Nevada and New Jersey, WSOP.com, aren't going anywhere.